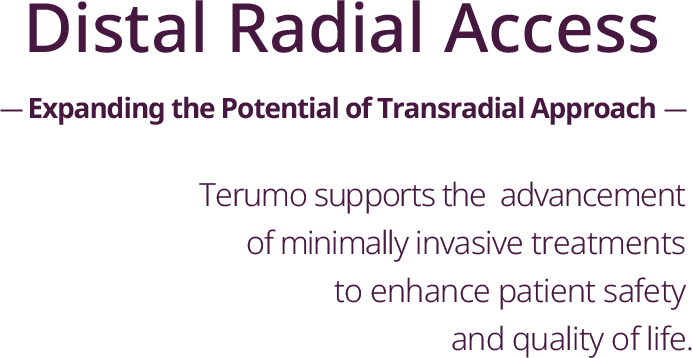 Features of DRA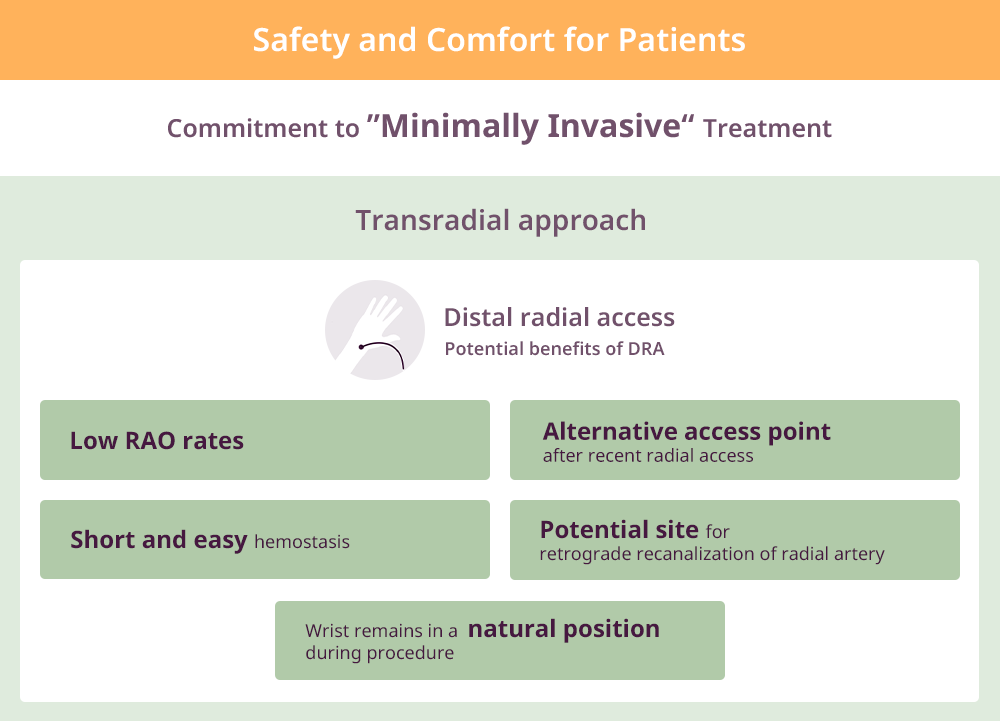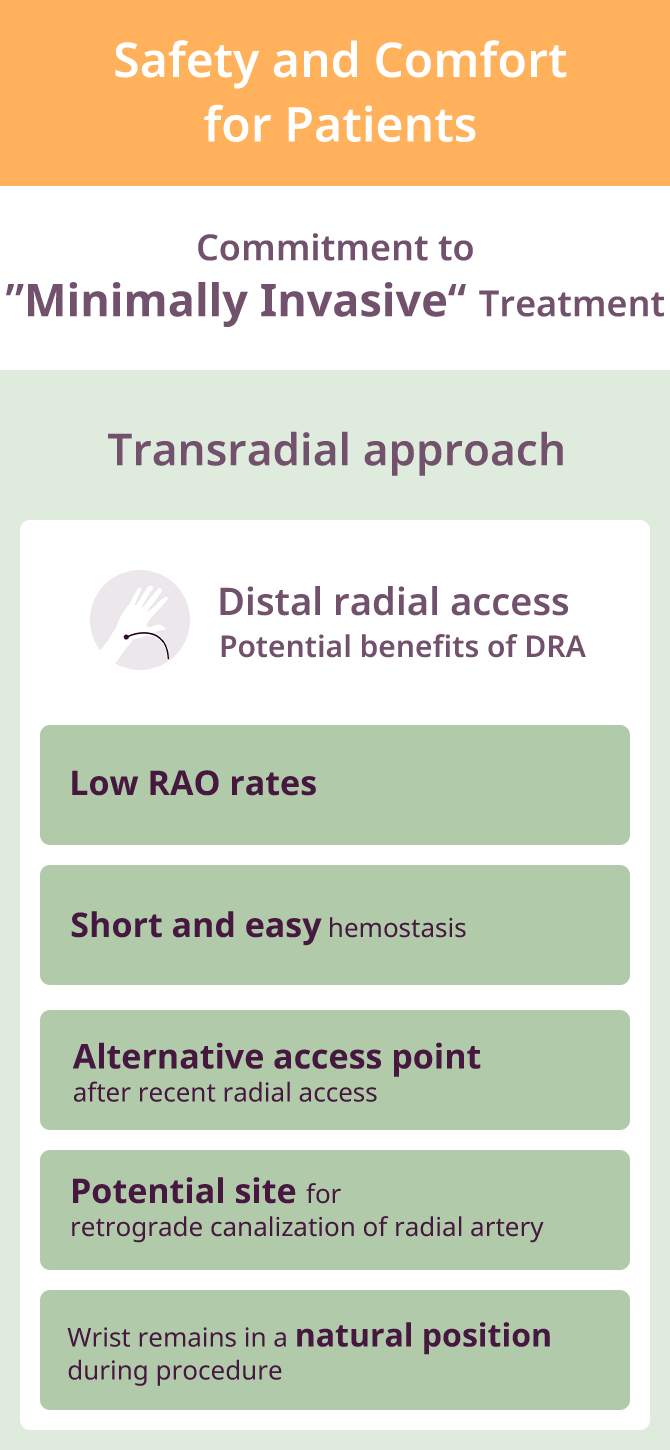 Ready for the DRA
We support the advancement of minimally invasive treatments 
to enhance patient safety and quality of life
as the trusted partner in transradial approach.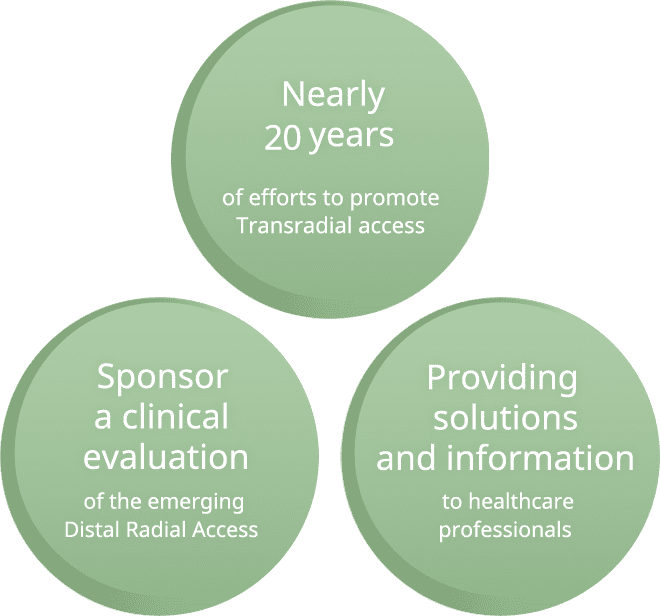 Message
For 20 years, Terumo has helped pioneer transradial approach. We believe the minimally invasive transradial approach is a patient-first approach, offering improved safety and comfort for patient.
Distal radial access is the most recent addition to the transradial approach tool box. For Terumo, not only does distal radial access provide medical professionals with another access option, the potential for this procedure to lower the radial artery occlusion(RAO) rate contributes to patient well-being, supporting our commitment to minimally invasive treatments and expanding the possiblities of transradial approach.
As a market leader in transradial approach, Terumo has a responsibility to medical professionals and patients to ensure that any approach we give our support to is backed by clinical evidence. The DISCO RADIAL trial helps fulfil that role. Sponsored by Terumo, this large international randomized study investigates the benefits of distal over conventional radial access, and we have been a supporter of the trial since the beginning.
The results of the DISCO RADIAL trial were announced at EuroPCR 2022 and demonstrated distal radial access to be equally effective as conventional radial access. Now, with this clinical evidence in hand, we see distal radial access as an effective option within a transradial first approach.
As the trusted partner in transradial approach, Terumo is committed to helping medical professionals realize the potential of this new access through innovative solutions, training opportunities and evidence-based research.
Clinical Evidence - DISCO RADIAL trial
Feature
The trial compares the novel distal radial access with conventional radial access approach,
in terms of radial occlusion rates (RAO) at discharge.
DISCO RADIAL is the first large international randomized study designed to investigate the benefits of
distal radial access over conventional radial access approach.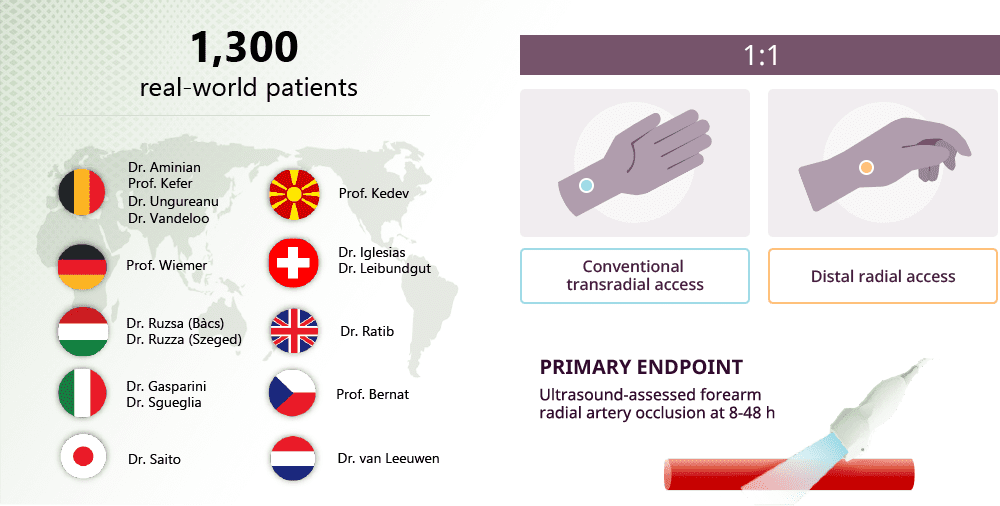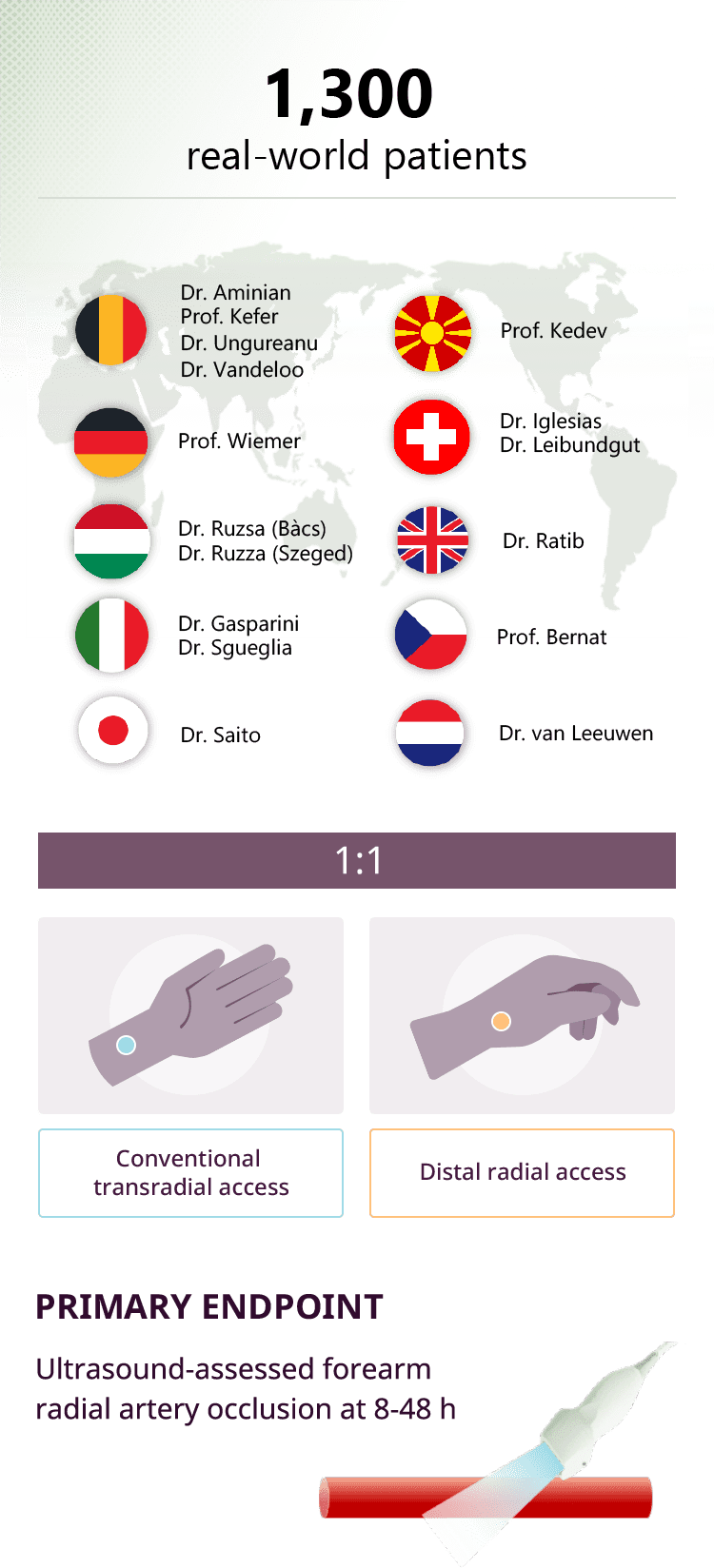 Learn about DRA
A review of the DISCO RADIAL trial and footage
of distal radial access in clinical settings.
Webinar explaining the results of the DISCO RADIAL Trial with an expert panel discussion on DRA.
Lessons from 3500 Cases Using the Distal Radial Approach(DRA)
Key points to safely perform the procedure, explained by Dr. Ikuta from Kurashiki Central Hospital, where distal radial access is actively being applied.
Agenda:

DRA features and anatomy
DRA procedure
From DRA data in our hospital