Benefit of TRI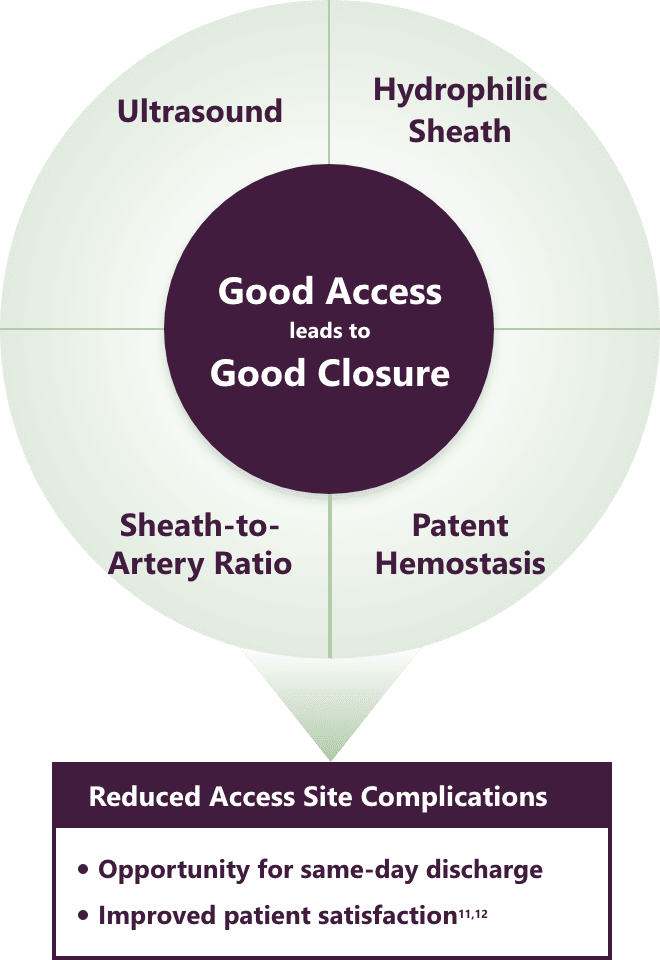 While transfemoral approach had historically been the standard access point for most cardiac catheterizations, adoption of transradial approach has increased as it is associated with better patient outcomes and reduction in bleeding complications. Click below to see more.
TIS X TRI History
Terumo was one of the first companies to offer training and education programs for radial access. Click below to see more on Terumo's contribution to transradial intervention.
Reference
Valgimigli M, et al. MATRIX Trial. Radial versus femoral access in patients with acute coronary syndromes undergoing invasive management: a randomized multicenter trial. Lancet. 2015;385:2465-76.
Data on File. Terumo Medical Corporation. Premiere Perspective Database.
Seto A, et al. Real-time ultrasound guidance facilitates transradial access RAUST (Radial Artery Access with ultrasound trial). JACC Cardiovasc. Interv. 2015;8(2):283-91.
Rathore S. Impact of Length and Hydrophilic Coating of the Introducer Sheath on Radial Artery Spasm During Transradial Coronary Intervention A Randomized Study. JACC Cardiovasc Interv. 2010;3(5): 475-83.
Saito S, et al. Influence of the ratio between radial artery inner diameter and sheath outer diameter on radial artery flow after transradial coronary intervention. Cath Cardio Interv. 1999; 46:173-178.
Pancholy S. Prevention of radial artery occlusion – patent hemostasis evaluation trial (PROPHET Study): A randomized comparison of traditional versus patency documented hemostasis after transradial catheterization. Cath Cardio Interv. 2008;72:335-340.
Schussler JM. Effectiveness and safety of transradial artery access for cardiac catheterization. Proc (Bayl Univ Me Cent). 2011; 24(3):205-209.
Duffin DC, Muhlestein JB. Allisson SB, et al. Femoral arterial puncture management after percutaneous coronary procedures: a comparison of clinical outcomes and patient satisfaction between manual compression and two different vascular closure devices.